1
I can't believe we don't have a thread about this amazing game yet!
http://www.stellarisgame.com/the-game
Stellaris is a just released 4x game from Paradox Interactive (makers of Europa Universalis IV, Crusader Kings II etc.). Stellaris gives a brand new look into strategic space games with randomized tech tree, random AI empires with varying personalities, ship customisation and much more. One of the biggest differences to traditional 4x games is the colonization: Colonizable worlds are rare, and you will have more systems with just mining and military stations than with colonies. Your own species only can inhabit only a very rare selection of planets, and you have to find other ways to colonise the rest, be it genetic modification, using client species or even robots (be careful of making your robots too smart
). Your population also have their own ethics, and the further away they live from your core worlds, the more they will divert from your empire's ethics, creating friction within your space realm.
Here's a small set of pics from my current game. I'm playing as the fanatic spiritualist and collectivist San'Shyuum. They can live for several hundred years, but are slow learners and not very good fighters. They also originally hail from a tropical world (89 pops is the total population of my empire):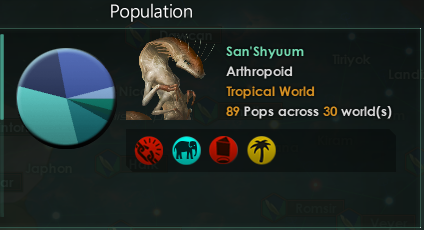 The San'Shyuum rule the Covenant, and they believe all life in the galaxy should uplifted and brought closer to the Gods through their hand. Yeon Stellar Republic, Neo-Tarassi Empire and Polity of Congram are my client states, and will eventually be absorbed into Covenant itself:
Here's a bit of a spoiler of bad things that might happen in the galaxy. A dimensional rift opened up near my empire, and out came horde of beings from another dimension. Their goal was to eradicate all life from galaxy, and they wouldn't stop receiving reinforcements until the rift was closed. Even though being quite close to them, I couldn't quite reach them, since I was blocked by these assholes (whom the beings started wreaking havoc on):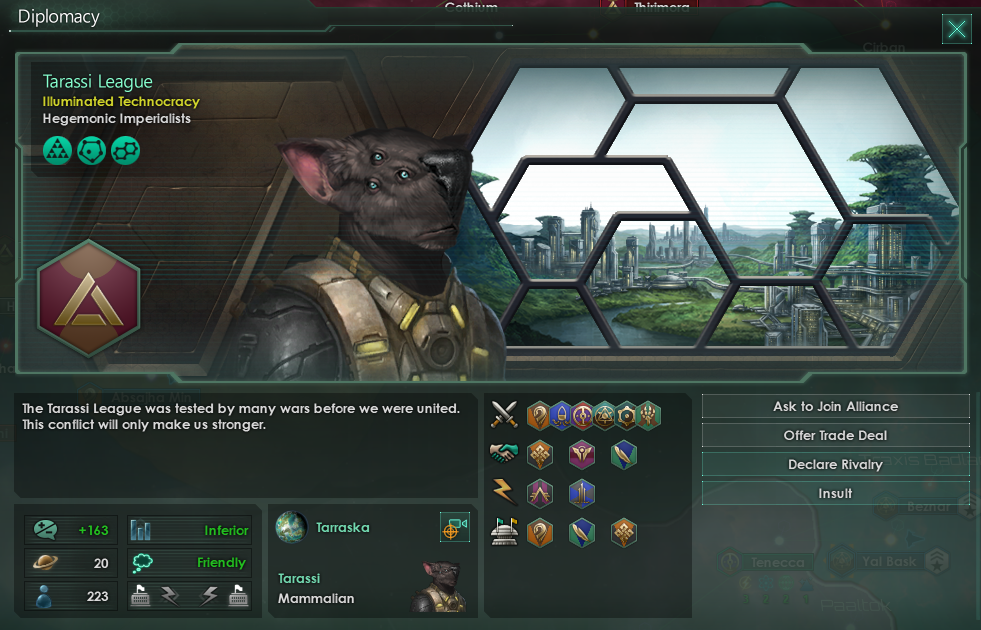 Because of this new threat to the galaxy, a neighbouring federation invited me to join them (despite being the galaxy's biggest asshole) so we could fight them together. I decided to join so I would have some allies in the war. What ended up happening was that the federation president declared war on the Tarassi League that was blocking my path to the rift. This allowed me to have a clear passage through their empire. I mobilised my entire fleet against these weird beings from another dimension. Here we can see the Covenant fleet and its allies putting all they have against the monsters: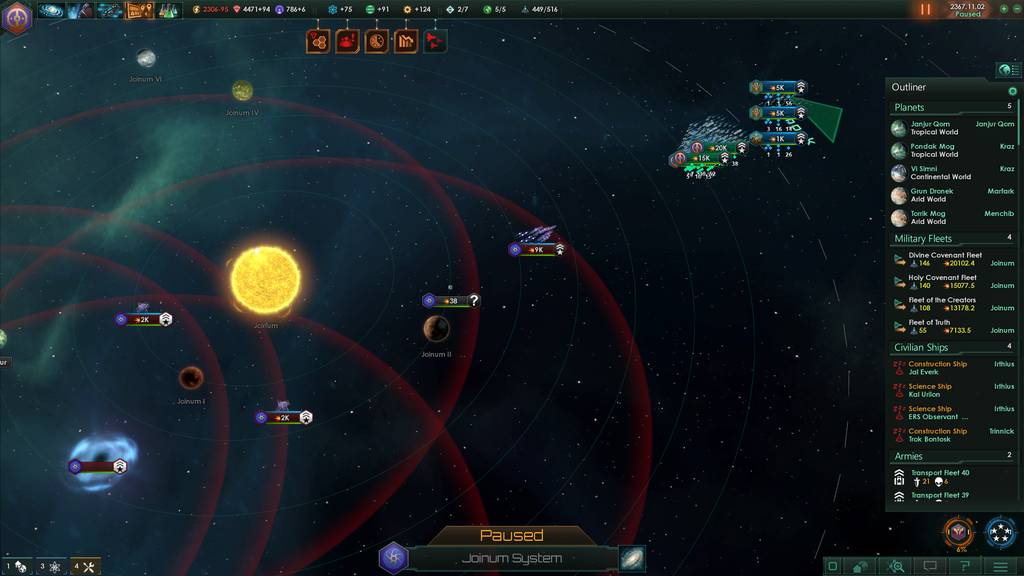 The total fleet of the beings was bigger than mine, but luckily they had already spread out across multiple systems. They didn't expect me to jump so fast right into their home system, and I managed to annihilate all their fleets one by one as they came to reinforce their only defence fleet in the system. The rift was destroyed, and what remained of the beings wouldn't be a threat to anyone. The Covenant is now celebrated as the saviour of the galaxy, and certainly this will help them bring all species in the galaxy under their fold on their way to salvation.