1
« on: 09-05-2012, 08:05:22 »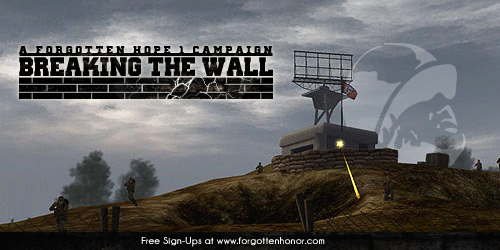 As we approached the beaches, all I could think of was one specific line in the speech General Eisenhower before we left England: "The free men of the world are marching to victory!"
I felt reassured as we left in the L.C.I.'s even though I could not hear myself think because of the hundreds of explosions around me.

I still can't describe the horror I saw when we stopped.

The hatch opened and suddenly the first 7 men die in front of me. I ran forward and as I approached the beach, I saw my own friends a few feet away from me have their arms and heads shot off, I could only see bullets flying... I didn't even know where the hell we were, where was my company? All I could think of was that the war had begun.
-----
Play an unique experience for Forgotten Hope 0.7
Breaking the Wall has just started

Play a Forgotten Hope 1 campaign spanning 15 battles across the Normandy.
For the first time in a Forgotten Honor FH1 campaign, two invasion maps played as scrim: Dunkerque where the allied were pushed out and their comeback at Utah Beach.
Teamwork oriented armies employing strategies and co-operation with promotions and rewards for your achievements.
Large scale battles every Saturday at 19:00 GMT.
New maps produced by experienced mappers and tested extensively by the community to assure a high level of playability.
New friendships with likeminded people from all over the world.
It is free to join, and everybody is welcome.
Forgotten Honor is a gaming platform that has a great amount of experience in arranging online events for games. We work our way up to bring you the opportunity to game as the way we think it should be: a full immersive experience. This is what makes FH so different. The context we add to your games creates a gaming environment you can't get with the vanilla game. Because at the end, those huge intense hours of gameplay with us is what makes a game unforgetable. Forgotten Honor has nearly 12,000 registered gamers and partnered up with AAA title developers and distributors.
Forgotten Honor is a platform that puts gamers together by giving value for their game experiences.